With IPL round the corner, few million eye balls will be glued to television for 45 days but who has the time and energy to follow each and every player so that their daily quota of entertainment remained fulfilled. I have decided to do a public service in order to separate wheat from the chaff. Here come a list of player you must watch out for in this season of IPL
Team: KKR
Playing Role: Allrounder. Can snatch defeat from jaws of victory by his bowling as well as powerless hitting
Strength: Lethal short pitch yorkers.
Description: The ball pitches at 115 Kmph on 11th yard and makes a gentle loop towards batsman's boots. Only two outcomes are possible.
Unnecessary trivia1: Statistics show that since 1998 only 3 kids have been named Ajit
Unnecessary trivia2: Google images suggests to search for his wife when user searches for his name
Unnecessary gossip
: Report have emerged that Musli Power Plus has been after SRK to let them use Agarkar in their ads of "before and after". They are planning to use Chris Gayle's picture as their "after" guy.
2. S Sreesanth
Team: KXIP
Playing Role: Entertainer
Strength: Wide short pitch yorker
Description: A variation of Agarkar's delivery which goes wide of batsman's boot after pitching short.
Unnecessary trivia: He doesn't date upcoming actress or publicity hungry models
Unnecessary gossip: He wants Shiamak Davar as India's coach
3.Wridhiman Saha
Team: KKR
Playing role: Batsman/Bowler/Wicketkeeper/Selector. His good luck can injure all the 11 players and then he can play any role he wishes too.
Strength: His looks
Description: His baboon-ish looks can scare any bowler amidst a lush green outfield.
Unnecessary trivia: He is the first pure batsman to make an unwanted debut for India since Vikram Rathore made his debut in 1995.
Unnecessary gossip: It is said that Rohit Sharma did not play the first test against SA due to mental trauma as opposed to injury reported in media. Reports say that it was caused when Saha played a prank on him and wore fur coat and jumped on his bed.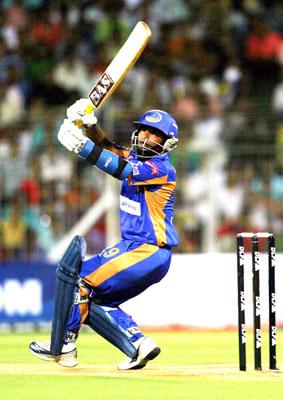 4. Swapnil Asnodkar
Team: RR
Playing Role: Runner for injured players
Strength: Running between the wickets
Description: His backfoot stance and freakishly short legs amuse fielders so much that they stop to watch him run instead of throwing the ball at the stumps.
Unnecessary trivia: Goa government is a planning marathon in his honor.
Unnecessary gossip: He was reportedly asked to model for Complan
5.
Joginder Sharma
Team: CSK
Playing role: Match maker
Strength: He can turn match anyway with his all-round abilities.
Description: Proven match maker, made a match of the T20 WC final by bowling 4 extremely poor deliveries and taking wicket on one such.
Unnecessary trivia: He is just 26!
Unnecessary gossip: Rumor is that he works as a part time tailor and a barber in Haryana. Probably these rumors are based on his rugged looks
6.
S Sriram
Team: RCB
Playing role: Sheet Anchor
Strength: Can hold his breath under water for more than 10 minutes.
Description: Indian team actually tried to drown him in Bangladesh once. He returned to score a breathtaking half century at amazing strike rate of 60 against an attack consisting of Tapash Baisya and Khaled Mahmud
Unnecessary trivia: His bowling economy is better than Srisanth's
Unnecessary gossip: Rumors float that he will be opening the innings for RCB in IPL3. Source for this rumor has been attributed to the man himself.
Sadly teams have removed many such players from their payroll who were once a part of IPL1. Hopefully I will post about the players I am missing in my next post.